The Apple AirTag is my #1 pick for keeping track of your dog. Although, the device can present more dangers than rewards if it's not attached correctly to your pet. You also have to be careful with them as your pup might confuse an AirTag for a snack, and that's one vet bill you do not want to pay.  
CLICK TO GET KURT'S CYBERGUY NEWSLETTER WITH QUICK TIPS, TECH REVIEWS, SECURITY ALERTS AND EASY HOW-TO'S TO MAKE YOU SMARTER 
That may be why Apple has consistently said that AirTag was not invented for use on pets.   That is not stopping tens of thousands of pet owners from attaching the popular tracker to their furry friends.   
In real life application, when using a safe approach and common sense AirTag scores the highest in its ability to pinpoint a lost dog or cat better than any other technology we have tested.   
FACIAL RECOGNITION APP CAN IDENTIFY YOUR PET'S FACE WITH 99% ACCURACY
How dangerous is an AirTag for my dog? 
An AirTag is only dangerous for your dog if they end up swallowing it, and unfortunately, there have been multiple incidents of this occurring that people have talked about on social media. An AirTag can pass safely through a dog's body if it remains intact in most cases.  
However, if the AirTag breaks apart while in your dog's body, it could complicate things and potentially require surgery. This is because the AirTag has a lithium battery inside it, and if that gets damaged, it could leak caustic substances that can damage your dog's mouth and stomach or lead to poisoning. 
MORE: IS YOUR AIRTAG ABOUT TO DIE?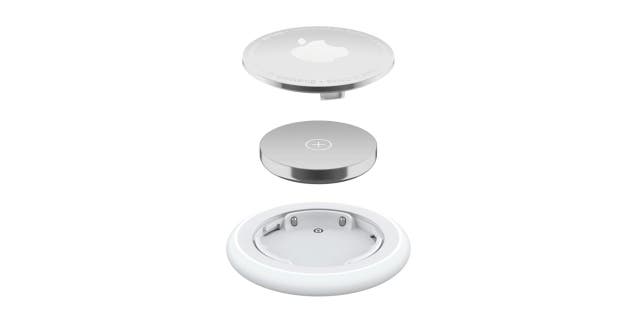 MORE: 5 BEST PET TRACKERS TO KEEP YOUR DOG OR CAT SAFE 
How do I avoid this from happening to my dog? 
The best way to ensure that your dog never eats an AirTag you put on them is to put it in a collar that can hold AirTags. The collar should not have a hanging component that a dog can reach or chew through. I have 3 great recommendations below that you can purchase for your dog on Amazon right now. 
Pup Culture AirTag Dog Collar Holder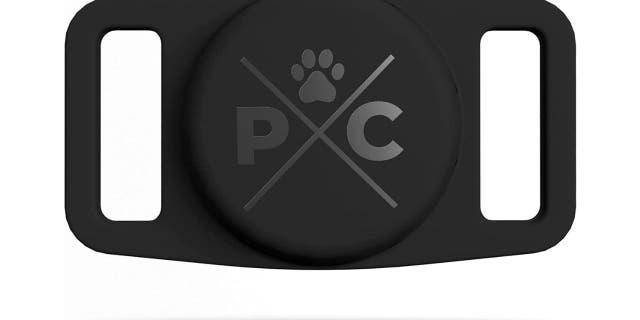 Credit: Pup Culture 
The Pup Culture AirTag Dog Collar Holder allows the AirTag to slide right onto the collar, so it's not dangling around your pet's neck. It is extremely durable, and you get to use all the great features of an AirTag while knowing it's safely attached to your pet. It has silicone, water, and impact-resistant technology that makes it ideal for diggers, swimmers, and playful pups. At the time of publishing, the Pup Culture AirTag Dog Collar Holder had over 4,800 global reviews on Amazon with 83% giving it 5 stars. 
Get the Pup Culture AirTag Dog Collar Holder  
CAISATEQ AirTag Holder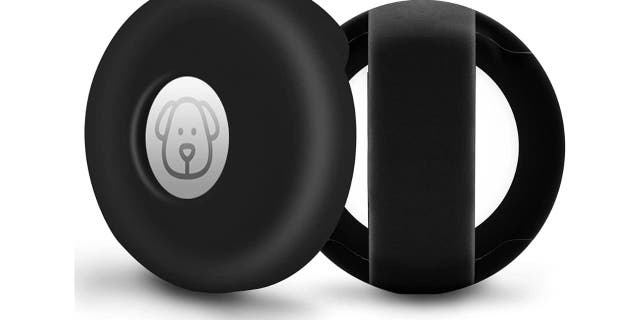 The CAISATEQ AirTag Holder has a precise cut-out with a slim fit, which can secure and cover the AirTag and protect it from scratches, drops, and unnecessary drag. It fits a 0.8-1.2 inch pet collar or pet loop and is easy to put on and off. The material is made of quality silicon which is soft, non-toxic, stretchy, scratch-resistant, dust-proof, and waterproof. At the time of publishing, this product had over 500 global reviews on Amazon with 81% giving it 5 stars. 
CITYWAY IPX8 Waterproof AirTag Holder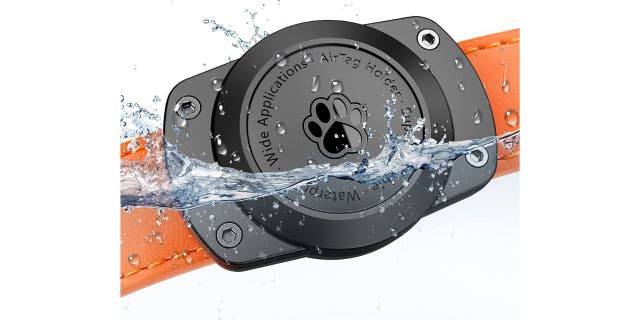 This AirTag dog collar holder has a waterproof ring that keeps out water, dust, and anything else that might damage your AirTag. It has four screws that hold the tag side in place and two that go through the collar and hold the whole thing in place.  
It fits the width of any collar or harness and can match your existing collar without changing anything. The case is fixed to the collar, and it is difficult for someone to quickly remove it so you won't have to worry about it falling off. At the time of publishing, this product had over 200 global reviews on Amazon with 75% giving it 5 stars. 
Get CITYWAY IPX8 Waterproof AirTag Holder  
Have you tried one of these AirTag dog collar holders yet? Let us know how they work for you. 
**For more of my best Pet Tech products, head over to CyberGuy.com and search "Best Pet Tech" by clicking the magnifying glass at the top of my website** 
CLICK HERE TO GET THE FOX NEWS APP
For more of my tips, subscribe to my free CyberGuy Report Newsletter by clicking the "Free newsletter" link at the top of my website. 
Copyright 2023 CyberGuy.com.  All rights reserved.   
Source link