I don't know about you, but I personally love a good party with family and friends. Aside from spending time with your loved ones and having delicious food, there are other ways that you can guarantee your party to be one to remember for a long time. Here are my top tech picks to help you throw your best birthday celebration, a holiday gathering, or just a casual get-together.
CLICK TO GET KURT'S CYBERGUY NEWSLETTER WITH QUICK TIPS, TECH REVIEWS, SECURITY ALERTS AND EASY HOW-TO'S TO MAKE YOU SMARTER 
There are thousands of apps out there to help you plan your party. You can find apps to help you make invitations, create a killer music playlist, use a photo booth app to take memorable pictures, and even use meeting apps if you're throwing a virtual event.
Here are some of my favorite apps that can be used for parties. 
Evite 
iPhone: 4.8 stars (at the time of publishing)  
Android: 4.3 stars (at the time of publishing)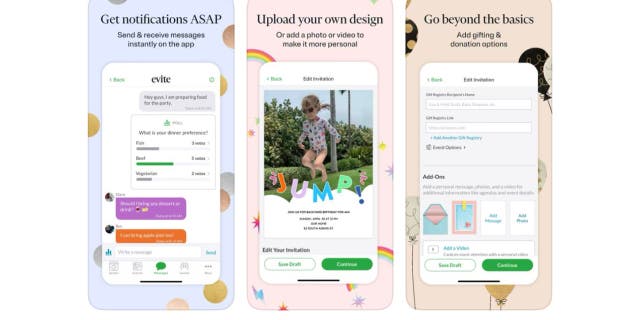 A great party starts with a great invitation, and my number one pick for sending amazing online invites is Evite. Evite is a dedicated invitation platform that allows you to create and send digital invitations for a variety of events. They have templates for everything from birthdays to weddings, and thousands of people have used the app to create invitations for their events. The invitations can be made digitally and sent to your friends and family members via text message or email. Once your invites are sent, you can track the RSVPs for free on the app. The app is free to use, or you can subscribe to its premium plan, which will give you access to even more features and invite templates. The Evite app is available on both iPhone and Android devices. 
Spotify 
iPhone: 4.8 stars (at the time of publishing)  
Android: 4.4 stars (at the time of publishing)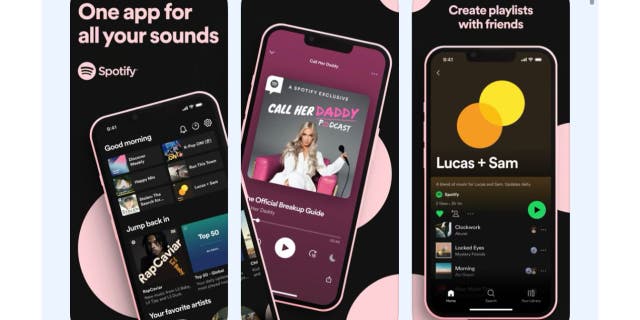 Spotify is one of the most popular music-downloading apps in the game, with over 26 million downloads. You can make as many playlists as you want and even create and share your own music playlists. It offers millions of songs from all different genres, so you can make the perfect playlist for your party. And if you buy a good speaker, you can play your music loud enough to give it more of a party vibe. It's free to download and use, and if you want the ad-free version, you can get a subscription. The Spotify app is available on both iPhone and Android devices. 
5 BEST APPS TO DETERMINE HOW MUCH A BOTTLE OF WINE GIFTED TO YOU IS WORTH 
Simple Booth 
iPhone: 4.8 stars (at the time of publishing
The Simple Booth app for iPhones lets you capture and share the fun of a Photo Booth right from your device. You can add some fun props and backdrops. The app allows you to take photos or GIFs with the app, create unique layouts or photo strips, choose filters, and more. It also allows you to instantly share photos to your preferred social media platforms, as well as through email or text message. You can even use editing tools like shuffle, crop, and more. This app is only available for iOS phones, however, there is another app called Photobooth mini for Androids that is very similar and had 3.8 stars at the time of publishing. 
Zoom 
iPhone: 4.6 stars (at the time of publishing)  
Android: 4.2 stars (at the time of publishing)  
After the pandemic, we should all be pretty familiar with Zoom. It's an excellent platform for hosting virtual events; you can invite as many people as you want. You can use the app on your phone, iPad, or laptop and communicate with all your guests easily. You can even share your screen during the event and play music from your device or spice things up with a variety of backgrounds to choose from by going into your Zoom settings and choosing Virtual Background. 
Zoom even began hosting a live hybrid event experience called Zoomtopia in 2022. This is perfect for people in the workforce wanting to host virtual work events because it gives you the ability to host a variety of events, from multi-day summits to multi-track conferences. 
FOR MORE OF MY TIPS, SUBSCRIBE TO MY FREE CYBERGUY REPORT NEWSLETTER BY HEADING TO CYBERGUY.COM/NEWSLETTER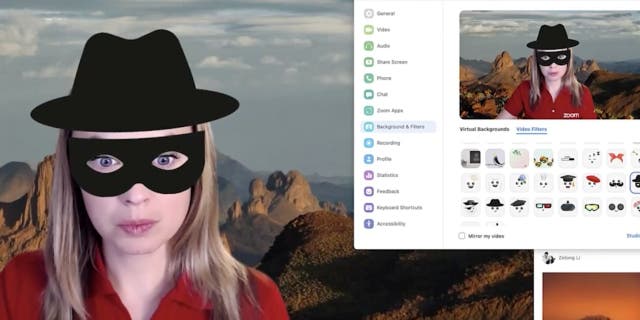 Zoom is free to use, but you do have to get a subscription if you want your event to be longer than 45 minutes. If you accompany this with a projector and screen, you can even project your Zoom party onto the big screen to make it even more fun. The Zoom app is available on both iPhone and devices. 
BEST SMART THERMOSTATS TO KEEP YOU AT THE PERFECT TEMPERATURE  
Heads up! 
iPhone: 4.8 stars (at time of publishing)  
Android: 3.5 stars (at time of publishing)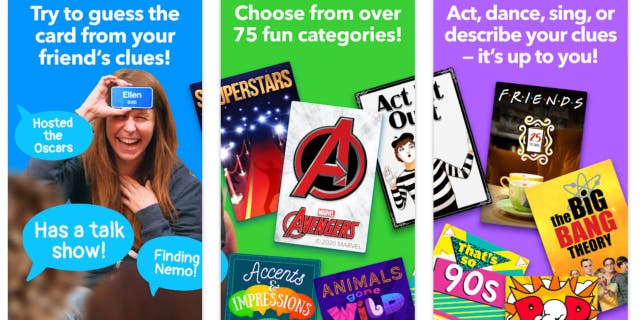 Heads Up! is a fun mobile game app to incorporate into any party. How it works is you hold your phone against your forehead and guess the word on the screen based on your friends' hints. The game features a diverse range of categories and the ability to customize your own decks. It's sure to be a hit for your party, family gathering, or any occasion where you want people laughing and creating lasting memories.   
Psych! 
iPhone: 4.3 stars (at time of publishing)  
Android: 3.9 stars (at time of publishing)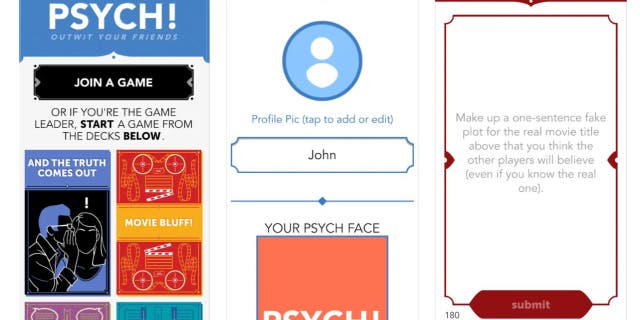 Psych! is the ultimate party game app! It adds a fresh twist to trivia and social gaming. Players create fake answers to real questions, trying to fool their friends. The goal is to trick others into choosing the wrong answer while you select the right one. With tons of categories and a huge question database, Psych! guarantees laughter and friendly competition. It's perfect for small groups or big multiplayer matches, making any party a blast. 
Invest in quality entertainment products 
You can also upgrade your party experience with some cool entertainment products. I did my homework and found some great tech for your next soiree. Whether you want to show videos or movies outdoors with a mini projector or print those favorite party photos instantly with a portable printer. And let's not forget how important a good speaker is when you are playing your music. I also discovered a high-tech gadget that will even make mixed drinks for your guests.  
You can check out these great entertainment gizmos at CyberGuy.com/Party 
CLICK HERE TO GET THE FOX NEWS APP
Kurt's key takeaways 
So, whether you're planning a birthday celebration, a holiday gathering, or just a casual get-together, incorporating these tech picks will take your party to the next level and create unforgettable memories for you and your guests. 
Have you tried any of these options yet for your parties? What are some others you enjoy using? Let us know by writing us at CyberGuy.com/Contact 
For more of my tips, subscribe to my free CyberGuy Report Newsletter by heading to CyberGuy.com/Newsletter 
Source link